A high school lacrosse program from suburban Massachusetts and a community non-profit from inner-city Baltimore may seem like an improbable pairing. But by empowering girls from different backgrounds to collaborate, the partnership between North Andover and 13th Girl is a testament to the power of human connection – and to the power of lacrosse to bring diverse communities together.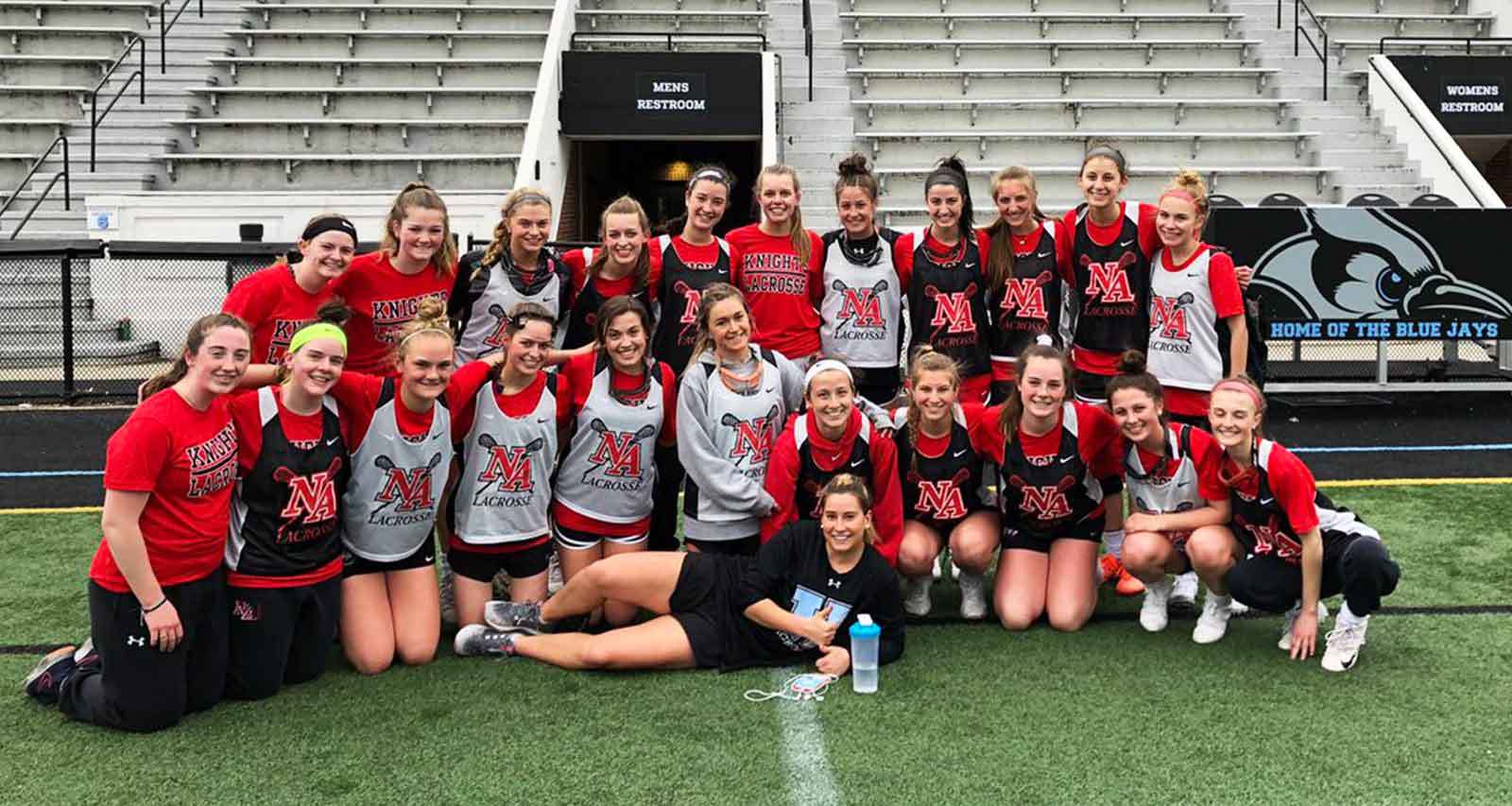 Braids whoosh as players make agile cuts across the field. Lacrosse sticks clink together like sparring swords. Players on opposing teams give one another a congratulatory dap after successfully applying a clinic lesson into the scrimmage.
On the sidelines, a high schooler howls "crash," reminding her younger defensive players to crowd the middle of the field.
The chorus of a Beyoncé song booms through the speakers in the corner, transmitting messages of girl power.
These are the bold and buoyant sounds of a lacrosse clinic organized by the 13thGirl Foundation in Baltimore, Maryland, where shooting drills and 5 vs. 5 scrimmages are often followed by the exchange of dance moves and stick tricks.
13th Girl is an organization dedicated to providing quality extracurricular opportunities to middle school girls in inner-city Baltimore.
Their activity of choice?
Lacrosse.
Through providing year-round opportunities to get involved in lacrosse, 13th Girl teaches participants a variety of life skills in their mission to promote success on the field and in the classroom.
"Lacrosse is the vehicle that allows us to expose our kids to new things. We want to expand their opportunities," said Shaeleen Bader, founder of 13th Girl.
Keeping with its holistic coaching approach, 13thGirl also offers academic guidance, which includes year-round tutoring, mandatory study halls, and behavioral interventions.
The organization recruits like-minded volunteers to help run their many clinics, camps, and other events. It also partners with Harlem Lacrosse, a school-based non-profit that provides holistic support to at-risk youth in several major cities, including Baltimore.
On this particular Saturday morning, girls from North Andover High School, one of the premier high school lacrosse programs in Massachusetts, acted as the coaches.

North Andover High School, 30 miles north of Boston, also sees lacrosse as more than just a sport. Through lacrosse the North Andover students developed a thirst for improvement and the understanding that "getting where you need to be" requires hard work.
Last March, North Andover arrived in Baltimore excited to impart lacrosse wisdom onto the middle school athletes of 13th Girl. However, the Lady Knights knew this weekend would be about more than just lacrosse.
Collaboration on the field and mutual trust and respect led to fast friendships between 13th Girl players and North Andover.
"The Baltimore girls made us feel super welcome and our girls made them feel welcome to be themselves," Meredith Prior, head coach of North Andover, recalled.
All parties left the weekend with new perspectives on lacrosse and life – as well as some new dance moves.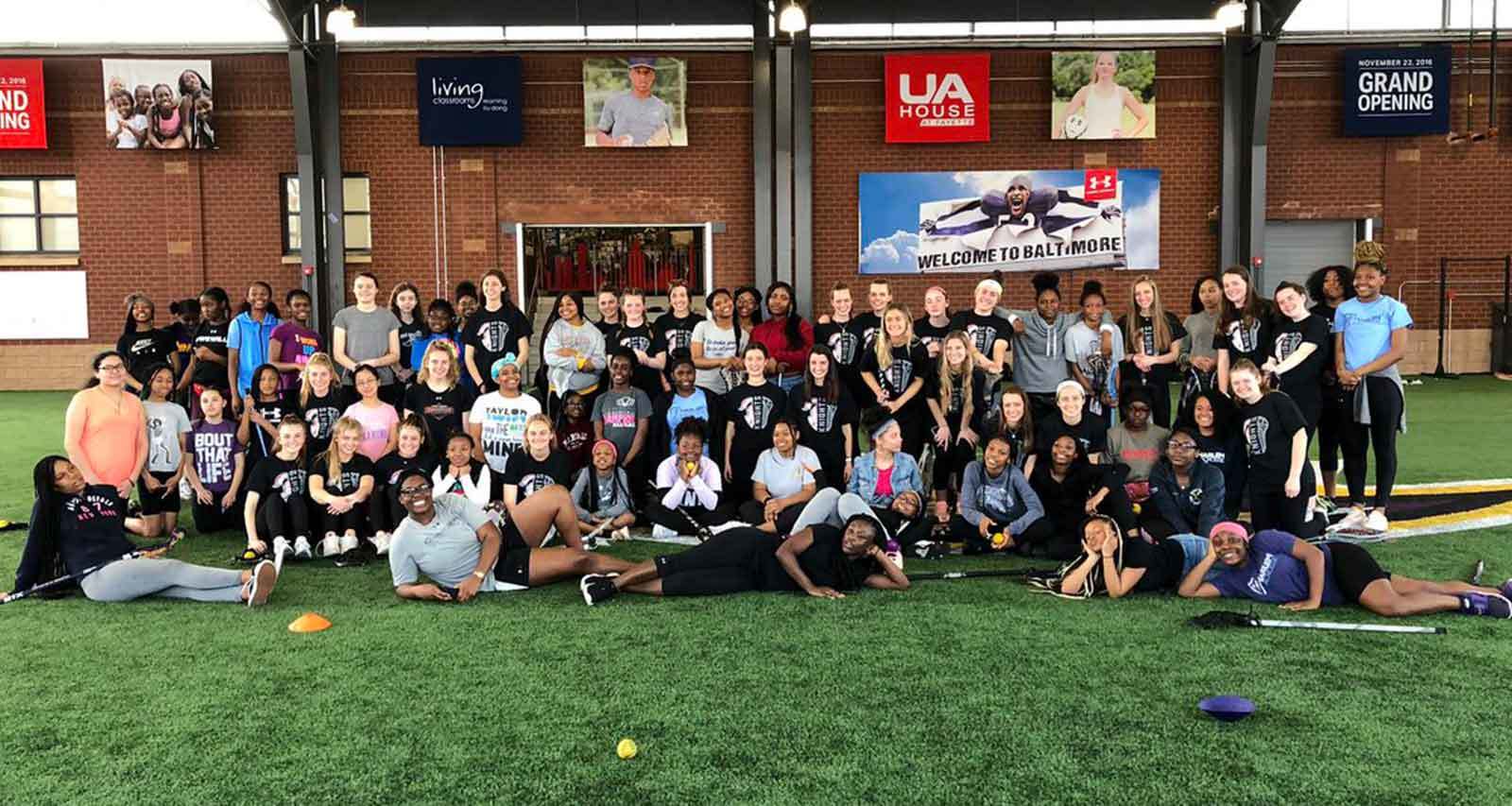 Cultivating Leaders
In five years at the helm at North Andover, Coach Meredith Prior boasts a winning percentage that hovers around .800, featuring three North Sectional titles and the program's first trip to the Division 1 Massachusetts State Final.
But under her direction, the team has achieved more than record-breaking success – Prior is committed to growing her students into outstanding human beings.
Through team bonding activities that promote leadership and mental toughness (like "wingmen," an intentional pairing of players who take responsibility for picking each other up when they are down and celebrating each other's successes), the Lady Knights explore what it takes to be a leader on the field, in the classroom, and in their community.
Prior encourages her team to put these lessons into practice. The Lady Knights are known for attending local youth program practices in the North Andover community and offering coaching assistance. They also host Youth Night where younger teams are invited to play on North Andover's field during half time at a varsity game.
North Andover, like many other high school and club teams, values initiatives like these for their ability to inspire love for lacrosse in their community as well as to recruit rising lacrosse stars. Most importantly, they challenge the Lady Knights to step up as mentors and leaders.
"I think the coolest thing is the future of North Andover Lacrosse meshing with current North Andover lacrosse players," Prior said of her program's involvement with youth programs. "And that's really fun for me to see."
In 2018, the team's success on and off the field earned Prior the Positive Coaching Alliance Double Goal Coach award.
"By creating a positive, character-building youth sports experience and serving as a Double-Goal Coach, Meredith helps youth develop into better athletes and better people," Beth O'Neill-Maloney, Executive Director of PCA – New England, said of Prior. Only 50 coaches across the nation receive this award from the PCA each year.
Their dedication to giving back to youth lacrosse programs has now taken the Lady Knights across state lines. At the end of March 2019, the team ventured south to Baltimore to team up with the 13thGirl Foundation.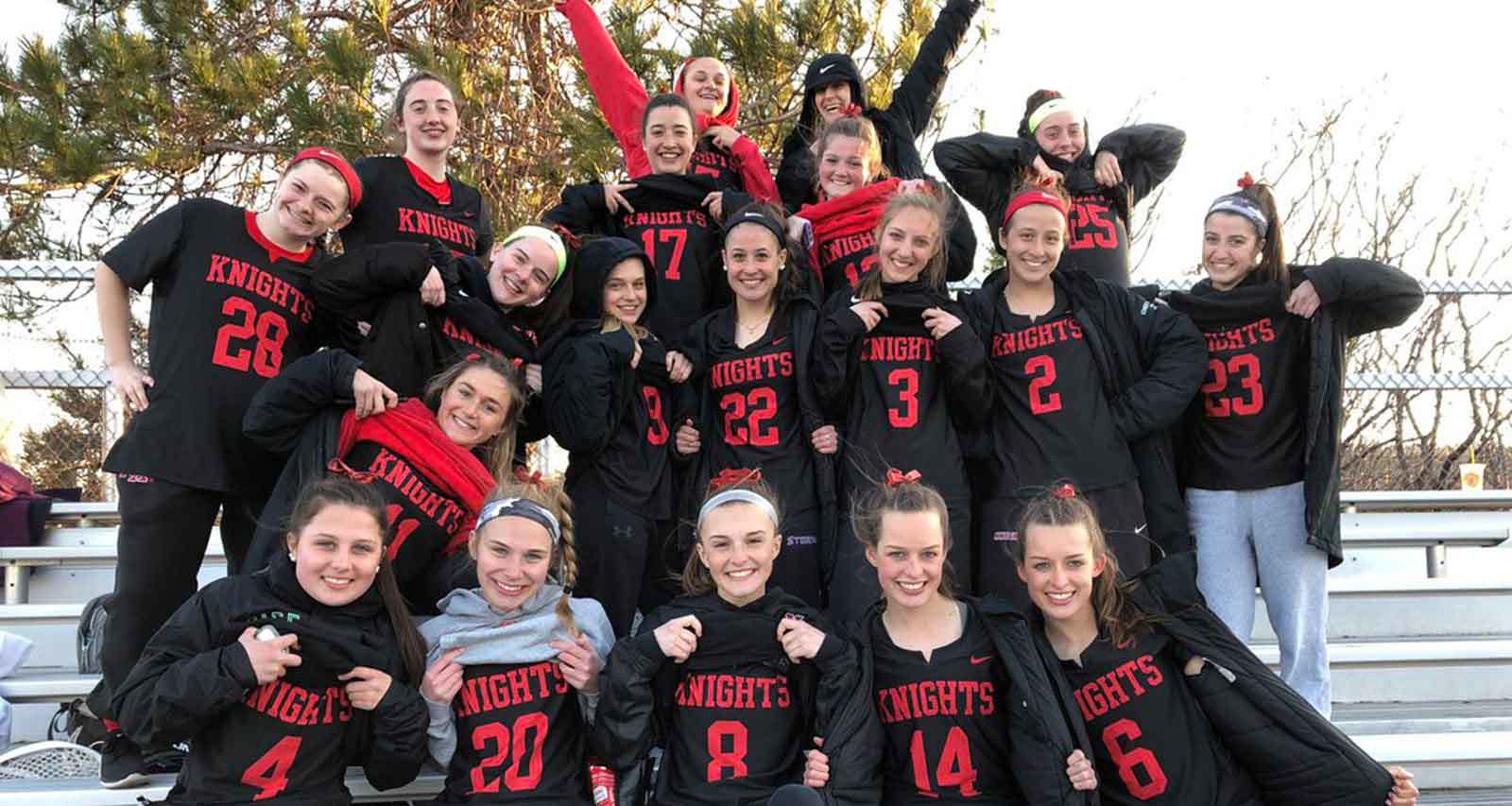 Opening Doors
Through lacrosse, the 13th Girl Foundation has found a way to support and empower disadvantaged kids. Since founding 13th Girl in 2011, Baltimore-based educator Shaeleen Bader says she has seen her participants excel on the field and in the classroom, go on to college, and reach new heights they never thought possible.
By identifying struggling programs and providing assistance where needed, 13th Girl supports girls' lacrosse programs and other extracurriculars at elementary and middle schools in inner-city Baltimore.
According to Bader, there's no such thing as a "typical day" at the foundation. 13th Girl has done just about everything from funding and organizing clinics and urban lacrosse leagues to providing equipment and uniforms to programs that are unable to afford them. She is currently working to secure a grant she needs to organize summer lacrosse camps and tournaments.
In its fight to open doors for Baltimore's inner-city kids, 13th Girl knows academic success is critical to their empowerment. That's why the program provides year-round tutoring, academic guidance, and behavioral interventions. Participants are also required to attend study halls, which assist them in completing school assignments with a goal of achieving a deeper understanding of their coursework.
This additional academic support complements the sense of competence and responsibility participants take away from membership on their lacrosse teams.
By removing barriers that stand between low-income communities and quality after-school programs, 13th Girl has become more than just a lacrosse league. In its mission to foster growth and the development of life skills, 13th Girl steps in to provide the support system that disadvantaged kids often lack.
"I think that in the city, no matter where you are, it's important for every kid to have after-school opportunities to guide them to better things," Bader said.
In many cases, the program's clinics are run by high school or college teams who serve as mentors and role models to the girls. Through these events and others, mentors often form long-term relationships with players, which Bader says both support and inspire them.
"I think it exposes them to different levels of lacrosse. It exposes them to different points of view," Bader explained. "I think it opens their minds."
And sometimes 13th Girl takes its athletes to their mentors' college games, an experience that Bader says introduces them to opportunities outside of Baltimore.
"My favorite memories are college visits," Bader gushed. "Whenever you take them to a college, they want to go there. It gives them another level that they wouldn't have had otherwise."
Bader says the "connections" her girls make with high school and college athletes is an aspect unique to 13th Girl. These mentors symbolize the goals 13th Girl members strive to achieve, making them vital to the curriculum Bader has developed.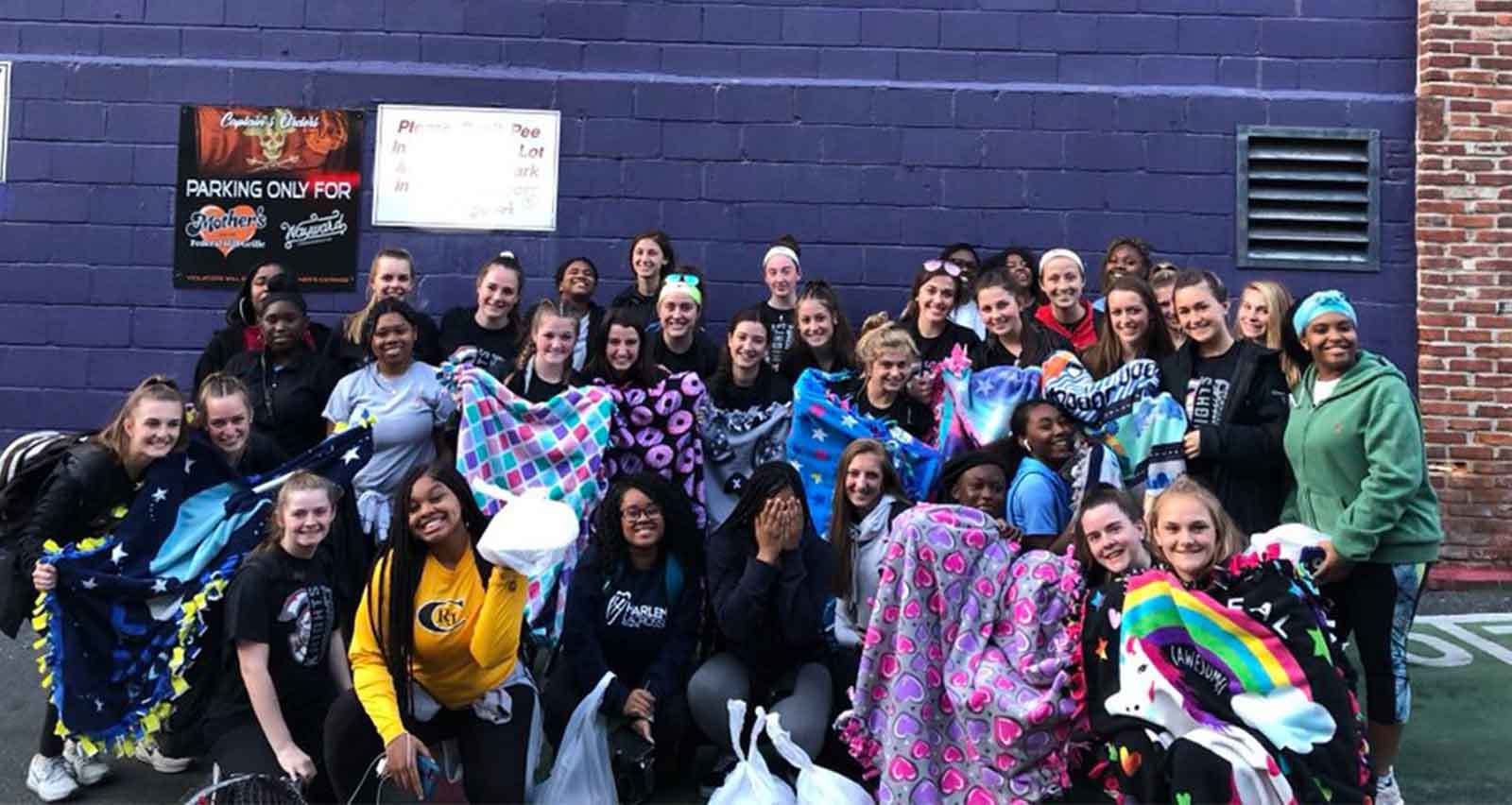 Making Connections
Inspired by their use of lacrosse to support inner-city communities, Prior and North Andover arranged an event with the 13th Girl Foundation.
"We were there essentially to run a clinic and help them, but also for our players to see how lacrosse can change people's lives," Prior said. "We felt that it was important for our players to learn about giving back and see other walks of life."
The clinic allowed North Andover several hours to run drills with the Baltimore players, allowing them to focus on individual skills. After covering everything from stick work to spacing, they took these lessons into several scrimmages.
But their Saturday became much more than a handful drills and scrimmages. After their morning clinic, the two teams spent the day together bowling, eating pizza, solving scavenger hunts, and sharing what lacrosse means to them.
Prior recalled that some of the Baltimore girls shared how tough school and their home lives can be.
"I think the part that hit home the most for our players was when we were dropping the Baltimore girls off at night, after our dinner," Prior said. "Every time a girl got off the bus, they told each other to 'be safe.' I think that was really eye-opening for our players."
Bader echoed this sentiment: "I think all kids learn from each other and it's a good experience all around," she said, adding that she's witnessed her program's volunteers learn immensely from the girls they mentor.
And despite their differences, the two teams learned they have even more similarities.
"At the end of the day, they're all just kids. We see that and they see that," Bader explained. "They all going through similar experiences – school, 'annoying' adults, finding themselves. They are boy-crazy or girl-crazy. They love music, dance, social media. They learn to love to truly appreciate everybody."
Unfortunately, a weekend like this doesn't come without a price tag. From transportation and lodging, to games and team dinners out, North Andover racked up quite a bill.
That's why North Andover turned to Snap! Raise for its team fundraising needs. With the help of Boston-based campaign director, Cam Bell, (who himself moonlights as a goalkeeper for the Boston Cannons of Major League Lacrosse), North Andover was able to raise over $11,000 to put towards its trip.
With the funds they raised from their Snap! Raise campaign, Prior and her Lady Knights were able to cover their own travel expenses and treat the 13th Girl athletes to a day full of lacrosse, bowling, arcade games, and everything in between.
"We bought everything down there, so it was us donating to them to make the day possible, make the weekend possible," Prior said.
Even with the trip expenses, North Andover still had room in the budget to replace their freshman and JV teams' bags. Prior points to Bell for the success their campaign, calling him both receptive and reliable.
"Cam's awesome. Always willing to answer questions, whether it's about Snap! or whether it's about lacrosse," Prior said. "He's created a relationship with our coaching staff and we love having him around."
Whether building leadership skills or meeting the humbling realization of "we're all just the same," the athletes of North Andover and 13th Girl learn about the world around them on their lacrosse field.
And by collaborating with teams like North Andover, 13th Girl will continue to grow their participants into better athletes and even better people.
Looking to make an impact in your lacrosse community? Start a Snap! Raise fundraiser today!
Start a Fundraiser