Ballard High School Cheer cannot be stopped. Racking up championships donned in red and black, the North Seattle team is making an impact in the sport of cheerleading that will last far beyond football season.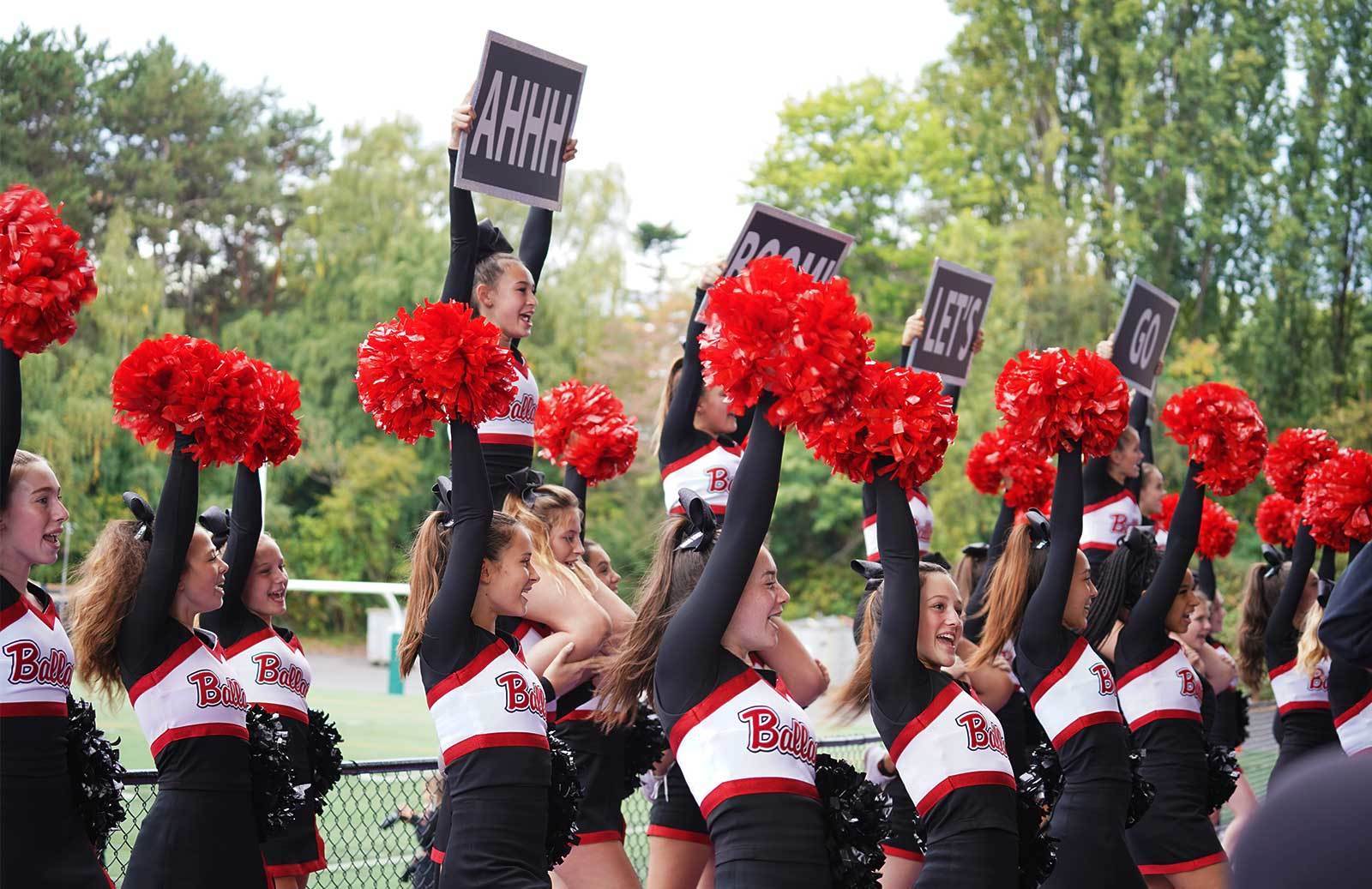 Like any high school cheer team, Ballard's cheerleaders are their school's most consistent fans. They attend every home football and basketball game and celebrate a variety of sports at their school, always with the same unmatched spirit.

But Ballard Cheer no longer stops at cheering from the sidelines.
"Most people when they think of cheerleading think of the sideline aspect of the sport," said Ballard Cheer's head coach, Samantha Burnstead. "At Ballard, we've really invested in our competition culture, as well."
Relishing the rewards of its investment, Ballard walks into the competitive cheerleading ring with some serious hardware under its belt. Following back-to-back State titles, 2018 marked the team's most successful season yet, culminating in a trip to Nationals and a finish as finalists.

According to Burnstead, the cheer team's champion status did not come without a fight: "Ballard is good because we work really, really hard for it. Not because it's given to us."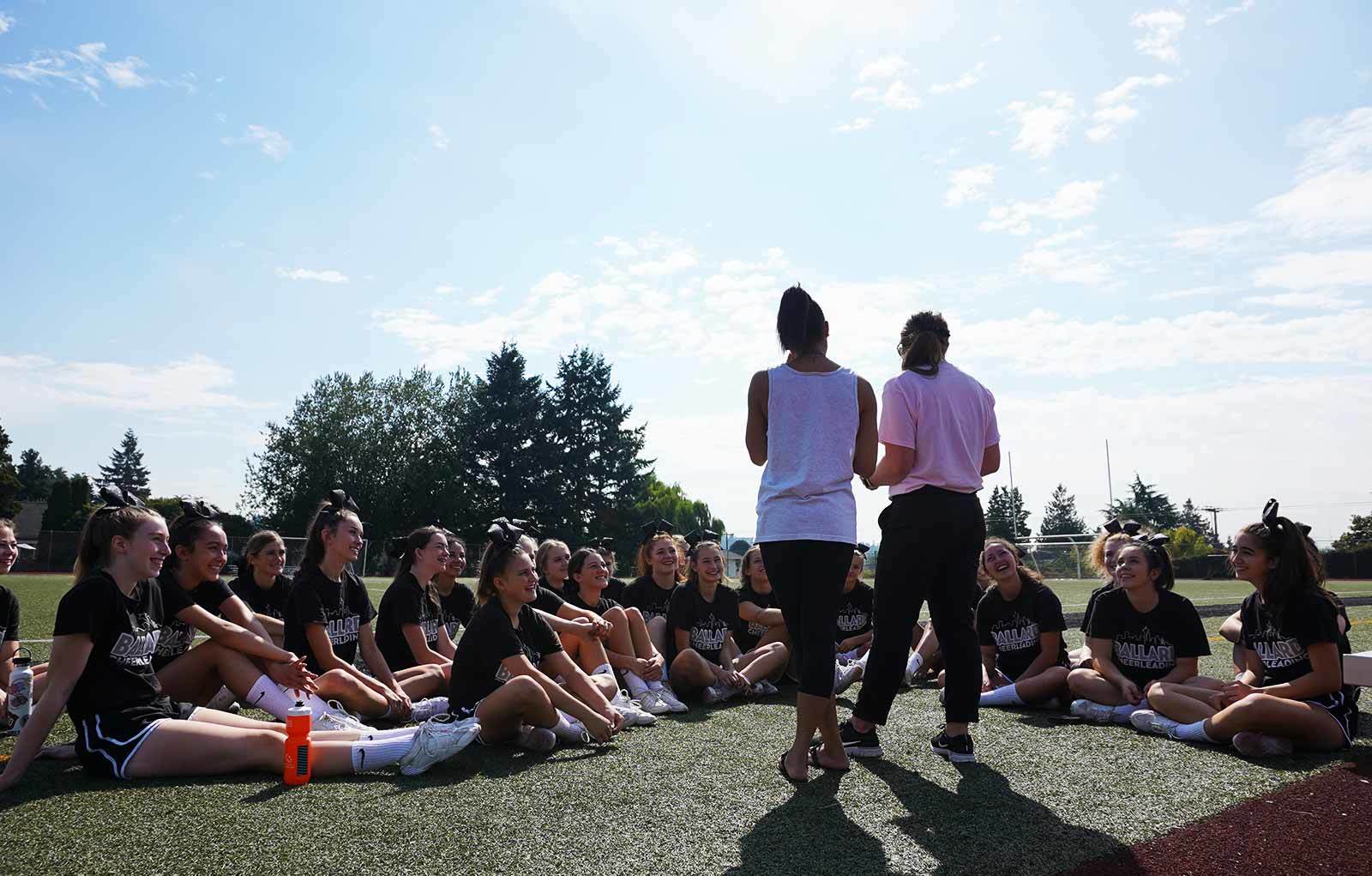 Ballard Cheer trains nine months out of the year for its competition season, which begins in November with a regional competition and finishes in February with both the State and National competitions.
The 33-member squad cheers as one team at school games but competes in two distinct Varsity divisions: tumbling (dubbed the "Black team") and non-tumbling (dubbed the "Red team"), with the athletes split evenly between the two teams.
Preparation for the season begins with a skills camp in August. Here, the cheerleaders learn the skills that will be incorporated into the team's choreography for the year. The Ballard cheerleaders commit to choreography weekends throughout the fall and begin to put their entire competition together around mid-October.
The team is not content with simple routine practice, however. Ballard Cheer is dedicated to developing holistic athletes, equipped with strength and skills across the board.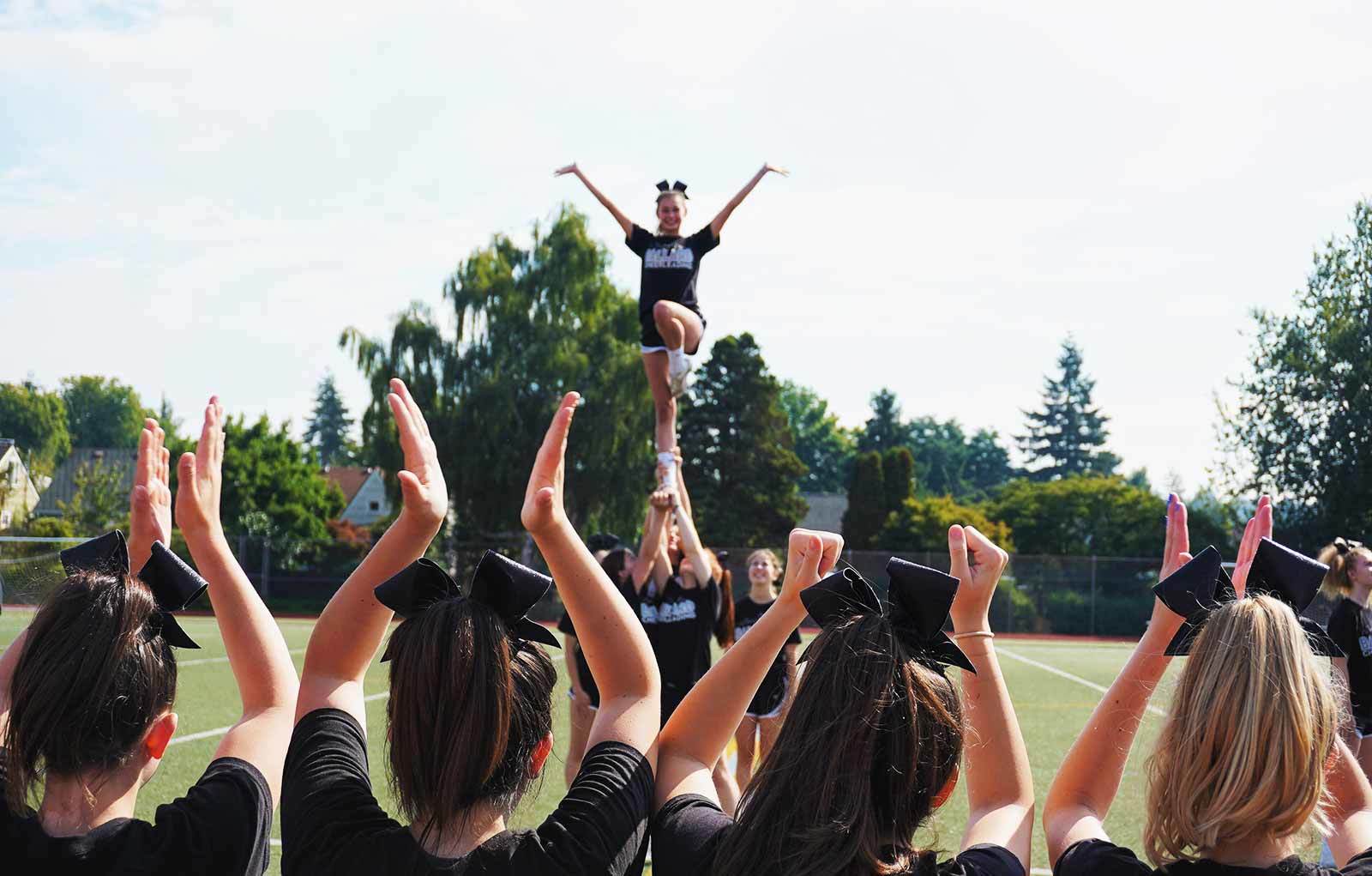 "Every single year, we've tried to add a little bit more to help them chase down their goals," Burnstead said.
Last December, the cheer team was the first Ballard team to participate in a new supplemental strength and conditioning program led by Ballard High School's Strength & Conditioning Coach Colin Matthiesen. The team – which is currently entirely female – learns how to train in the weight room, pumping out sets of pull-ups, power cleans, and more.
Burnstead said that the strength and conditioning program has done more than help strengthen her cheerleaders' muscles. "I think it's really helped the school see them as athletes," she reflected. "It's nice from them to see the girls in there and see just how strong they are."
The road to state
After tending the training fields in the fall, the harvest comes with the winter competitions. Beginning with regionals in November, Burnstead says that starting in late December, the cheer team competes every Saturday all the way up until the State competition on the first weekend of February.
The hard work paid off in February of 2017, when Ballard High School Cheer won first place at the Washington State Competition in the 2A/3A medium division.
With the team competing as an underdog, free of the pressure of expectation, Burnstead said that the 2017 season was quite fun. "It was really exciting to be winning," she said.
Burnstead noted that after winning the 2017 State title, the 2018 season "was a totally different ballgame."
She continued, "It really showed the girls they needed to rise up to the challenge."
Burnstead said that the expectation of perfection was a mental challenge, with the team having to shift from a "hunger" to a "hunted" mentality. Any mistake that Ballard made was only amplified when held up to its reputation of State title holders.
In February of 2018, however, they did it again: the State title remained with Ballard. This time, Ballard's Red team also placed third in the 2A/3A/4A non-tumbling division – its first time competing at State.

Along with the need to defend their new State title, the Ballard cheerleaders had another hurdle to clear during the 2018 season: the UCA National Championships.
Though not required according to the official rules, Ballard Cheer requires itself to place first at State in order to earn the right to compete in Nationals the following year. Burnstead says Ballard believes that "in order to compete nationally, you need to be the best of the best within your own state."
"We set the precedent for our girls to understand that Nationals is a really big deal and it's not just a physical competition – it's a mental competition," Burnstead explained.
After pushing through a successful, yet rougher, regional season, Burnstead said that she thinks her students "really reached their full potential" at Nationals.
"As soon as we got there," the coach continued, "all of a sudden, they just started hitting things with this confidence and this drive that we'd just been searching for the whole season and trying to pull out of them."
Burnstead pointed out that while there are several non-tumbling squads from Washington State competing at the highest levels of the sport, it's unusual for a Washington cheer team to even be in the conversation in tumbling divisions when it comes to large-scale renowned competitions like Nationals.
"This isn't something that people just grow up doing here," Burnstead explained.
While many cheerleaders competing at the national level are primed through years of rigorous training, many of Ballard's cheerleaders had no competitive cheer experience whatsoever when they first joined the team.
Competing against nationally renowned "story-programs," it was a big deal for the Washington team to even make it to Nationals. The Ballard cheerleaders, however, used their anonymity to their advantage. "They got to go out there and just be Ballard," Burnstead remarked.
The cheer coach explained that for Ballard's first trip to Nationals, the team's goal was simply to make the semifinals. "The fact that we went to finals – it just doesn't happen," she said.
According to Burnstead, the mere act of competing at Nationals meant more to the team than a placement in the finals. "Watching them be at Nationals and soak in Nationals was an amazing experience because they came home with this absolute desire and eagerness to build and grow that we just had been trying to capture the whole season."
Burnstead thinks that the team's energizing success in 2018 – especially with the victorious finalist-finish at Nationals – is helping inspire the students for the 2019 season.
"It was so cool to have them have such an incredible season there and then this year come in ready to go, and I think it's going to allow them to compete a little bit looser – a little less tense," she said.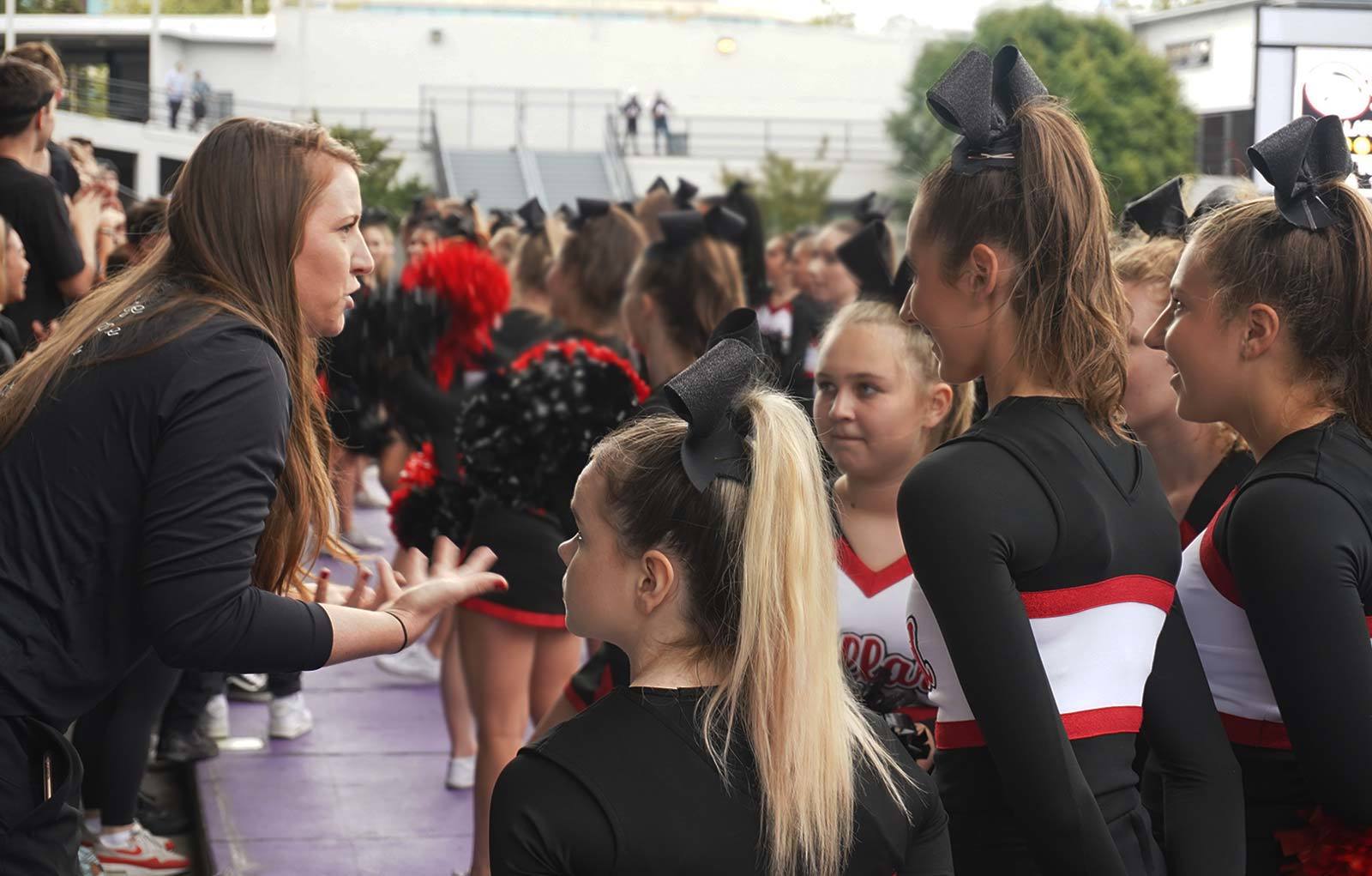 The 2018-2019 season is Burnstead's fifth at Ballard. Previously coaching and winning a State title with Juanita High School in Kirkland, WA, Burnstead said that Ballard piqued her interest when she heard that there was a coaching position available. Bringing her championship know-how across Lake Washington, Burnstead's Seattle career started with success: the cheer team placed second in State each of her first two years as Ballard's coach.
Even before Burnstead's arrival, Ballard High School cheer was no stranger to championships. Ballard holds the 2004 and 2006 State titles and has seen many of its alumni go on to cheer collegiately.
Despite Ballard Cheer's reputation of excellence, Burnstead thinks that the team is fighting an uphill battle when it comes to changing its community's perception of cheerleading.
"I don't think anyone understands cheerleading until they see it," Burnstead said. "I would love for them to know more and truly see them for the athletes that they are."
Adding to the team's battles, funding is an inescapable beast. Though it is an unavoidably costly sport, Ballard Cheer is financed entirely by the team itself.
Previously relying on carwashes and wrapping paper sales, Burnstead says that she is thankful she found Snap! Raise. The money the team raises through Snap! Raise is significant enough to completely fund the costs of the program, and, as a result, tale the burden off of the athletes' families.
"We've been really grateful for having a situation that allows our program to run seamlessly without having to ask the parents to fund the behind-the-scenes efforts."
Armed with top-tier coaches, equipment, and the buzz of the previous season's success, Ballard is ready for another championship year. Burnstead reported that the Red team is hitting skills that have been their goal since last year and that the Black team has, once again, qualified for Nationals.
"More than anything, we just want to go out there and show everybody that it's not a fluke," says the coach concerning the upcoming season. "Ballard is really, really good because we work really hard."
Burnstead proudly speaks of the student athletes on her team, attributing their success as a team to the genuine character of the cheerleaders – they are smart, driven, kind, and supportive of their teammates and passionate about the program.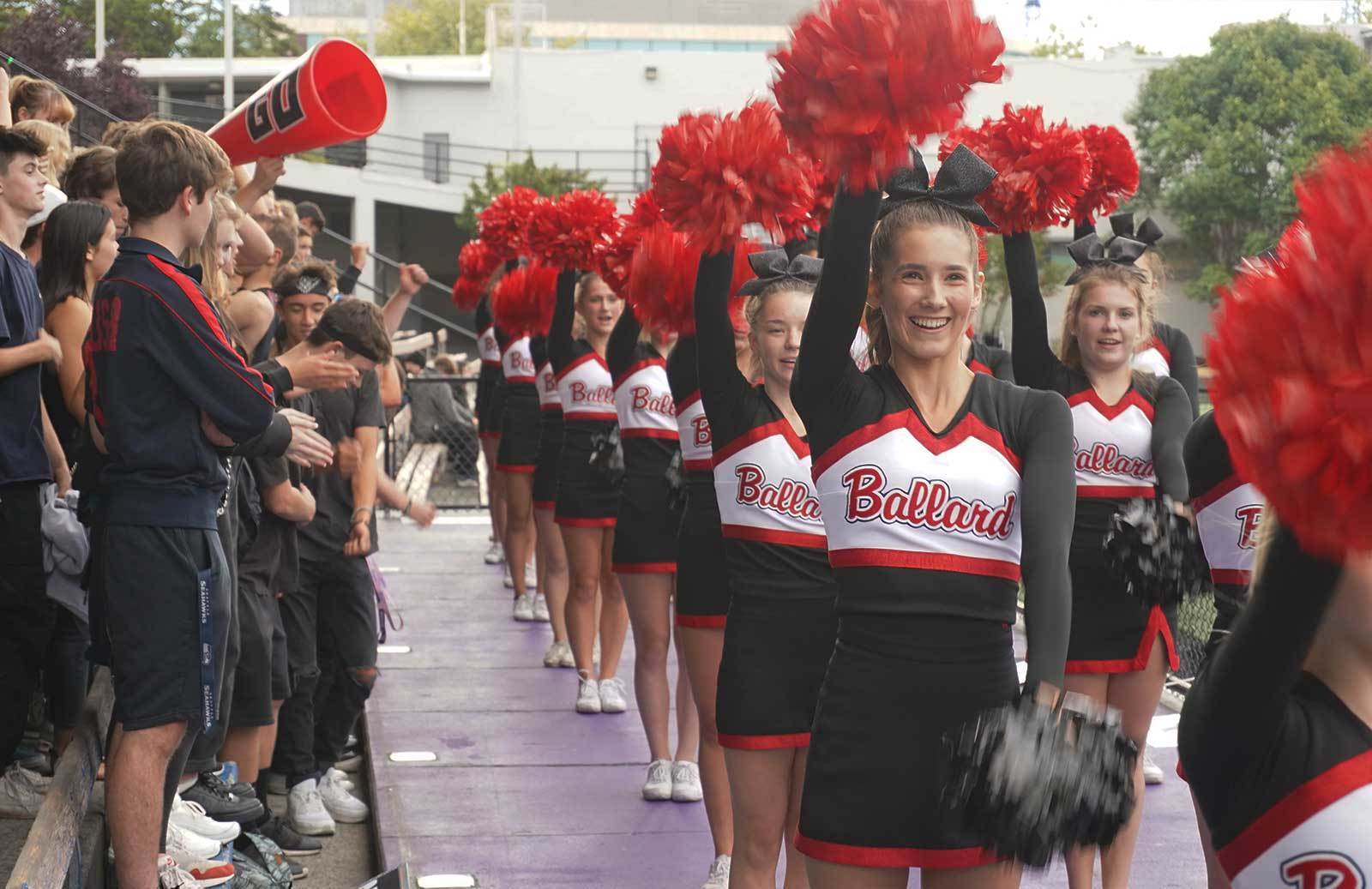 Burnstead believes that cheerleading's value surpasses the sidelines. According to the Ballard coach, cheer teaches the team critical life life lessons – particularly how to drive through and conquer adversity.
"You're not going to dream it into success," she said. "You have to work for it."
With Ballard poised for another championship run, the Seattle community – and the national cheerleading scene – would be wise to take note.
Snap! Raise can make it easier for your cheer program to step off of the sidelines.  Learn how Snap! Raise is built to support cheer programs of all sizes in all 50 states.
Learn More