Fundraising is a necessary evil for most club sports teams, but it doesn't have to be a pain. Here are 5 tried and true tips from club sports veteran Riley Brown for creating a club sports fundraiser strategy that will save valuable time for athletes, parents, and coaches – and get serious results.
Club sports are responsible for some of the most fun, challenging, rewarding, stressful and incredible years of a young athlete's life. During the season, emotions run high all the time. Practice every day of the week, games on the weekend (often out of town), and travel tournaments during the summer. Who has time for fundraising?
I grew up playing soccer, and at the age of 10 I joined a club team. From then until the end of high school, that was my life. I didn't have much time to do anything else, and neither did my poor parents.
Sneaking club sports fundraising into our already jam-packed schedule was nearly impossible and something everyone dreaded. We held auctions and sold car wash tickets that my parents would end up buying because I didn't have time to go door-to-door selling them.
My brother, who was playing club baseball and club basketball at the same time, would sell popcorn and cookie dough to fundraise – once again, that my parents would end up buying. I think to this day they are still able to live off the frozen cookie dough and bags of popcorn they were forced to buy year after year. But at least their cars were always extra clean.
Many people that are new to club sports don't realize the amount of fundraising needed just to keep the club and team afloat.
Flights, hotels, uniforms, warm-ups, bags, equipment, tournament fees, practice field/gym reservations... the list of expenses is endless. It can feel overwhelming, but with the right tools and support, it doesn't have to be.
Here are five tips to help club sports teams get out ahead of fundraising.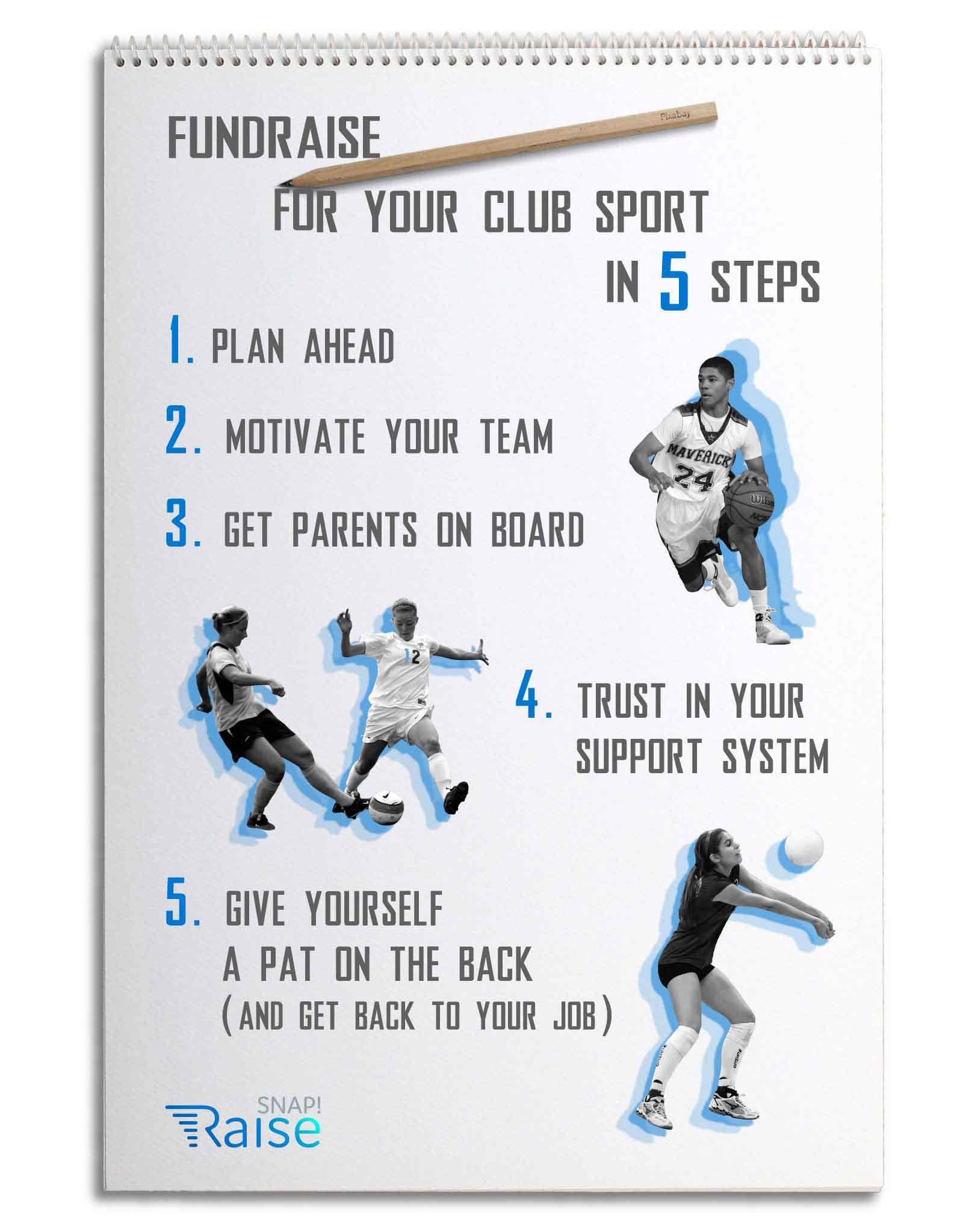 1. Plan ahead
This is probably the most important thing to do, for your team's sanity and your own. Plan ahead so that when the thick of the season inevitably sneaks up on you, and your athletes are setting their sights on winning games, you don't have to worry about raising money as well.
As soon as tryouts are over, and you have your team set, get a fundraiser going! Make sure you set realistic goals, and know how much a typical season costs per team, per kid, per ball, per uniform, etc.
If you use a full-service club sports fundraiser like Snap! Raise, your organization's personal campaign director will be there to help with all of this.
2. Motivate your team
Get your players excited! They're on a new team (or it's just a new season), and they're eager to help. Show them the ways that their participation can make a difference and what you're able to achieve with your fundraising dollars.
This is the perfect time and opportunity to emphasize leadership on your team before the season even starts. You will have to step up as a coach, but your athletes will be required to own some responsibility and step up as leaders, as well.
3. Get parents on board
A successful fundraiser requires buy-in from parents. Given time constraints and varying levels of parental involvement, this can be a challenge; however, Snap! Raise not only does a great job of taking the club sports fundraising pressure off of coaches and players, it also takes the pressure off of parents to go door-to-door with their kids or buy all of the product they are selling.
If I had been able to tell my parents that all I needed to do was collect email addresses of family members and friends and then we were done, they would have been thrilled. Just make sure to communicate with the parents about expectations for the fundraiser and what their kids will be required to do so everyone is on the same page.
4. Trust in your support system
Many coaches are hesitant because they don't know if people will want to support their program. They don't want to let their club or team down. You won't. Families will always support each other, and family friends love being involved.
As a proud alumna of my club, I would donate to a team in a heartbeat so that someone I know is able to have the same fantastic experience I did. If your players have siblings, cousins, aunts, uncles, or friends that played for the club in the past, encourage them to utilize those connections!
There are plenty of people in your community who would love to help your team – sometimes they just need to be asked.
5. Give yourself a pat on the back (and get back to actually coaching!)
We all know that fundraising is not what you signed up for when you started coaching. Yet, every year, it's necessary to keep the program running. Having an easy, trusted, and safe solution like Snap! Raise will take away the headache and stress that comes with collecting order forms and checks.
The best part about it? We give you your time back to do what you really want to do: develop great athletes and make a difference in young people's lives. As a former club sport athlete, I cannot begin to tell you how much of a difference you're making. Thank you for your passion and dedication in the incredible work you do!
To learn more about how Snap! Raise can support your team, sign up here to speak with a Snap! Raise fundraising specialist. Your athletes (and their parents) will be happy you did!
Learn more
Riley Brown is the Community Relations Specialist with Snap! Raise. She is a club sports veteran, having dedicated eight years of her life to playing club soccer which didn't leave much time for anything else.